What do i offer?
A body, curved and soft to cuddle, with a penchant for being clean and sweet smelling.
Long hair for a Masterís caress, or grasp. Dancing eyes that change color from blue to sparkling green.
my smile, sweet and inviting, laughter, free and easy without pretense. my spirit, teachable, strong and wise.
i offer the grace and style of a lady, spiced with the fire and joy of the wanton subbie. i bring the strength of a survivor, the tenderness of a mother, the humor of a clown, the wisdom of my years and the sensuality of an accomplished lover..
i will treat You and others with respect. i will seek out and attain new goals, be they mental, emotional or physical goals.
I possess the ability to speak up, be open and truthful not hiding my emotions, fears, limits, fantasies, ideas and thoughts..
I will offer fidelity and obedience to my Master.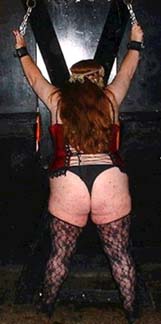 What do I expect?
Dominance is Your nature, not a game or role, it is what You are.
You are unattached and have come to terms with Your "baggage". To win me, You must first win my trust and this will take time.
You are in control of Yourself so that You can safely and successfully be in control of me.
You give one hundred percent of Yourself and expect no less from me. Integrity is a reflection of your character, fulfilling your promises.
You can be firm, with strength of Your convictions, yet a consummate lover, a supportive friend and partner.
You discipline wisely, taking time to learn my limits, never demanding the obedience that flows from my wanting to please, not my fear of being punished.
You understand the line between fantasy and reality, possessing humor, kindness and warmth.
You are romantic enough to be protective and chivalrous, secure enough to laugh at Yourself and the absurdities of life. Courageous enough to accept assistance, open minded enough to learn new things, strong enough to grow.
You understand that each partner gains most from pleasuring the other.
Once or twice a month i go to a public club in Toronto or private party in the area. We do what is called a demo, a short session that helps new people to the scene understand what BDSM is, how to work a submissive and as a subbie, how one can enjoy BDSM with no intercourse.
These pictures were taken June 2000, so are recent. i think the expression on my face gives an indication of how i feel about being on the St. Andrew's Cross.
Photos courtesy of Murray & opal
HOME