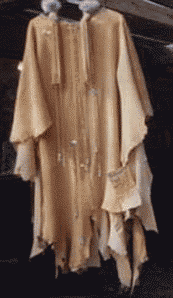 5 deerhide ceremonial dress (with braid ties decorated with rabbit fur hanging at the shoulders), designed and hand sewn by Shoshin. Dress was of Celtic design with dolman sleeves draping to the floor when arms were extended, the fininshing touches and beading were native influence.
Ceremonial male shirt of cotton and leather with seperate fringed van braces. Acrylic painting on van braces, shirt front and back were eagle feathers and a painting that could appear to be either a flower or the eyes of a wolf.Designed and hand sewn by Shoshin.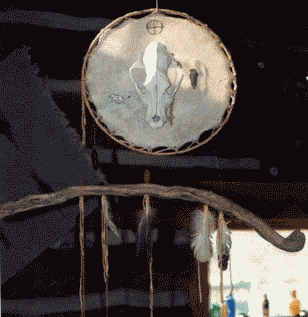 Shield Mandala commissioned to incorporate wolf skull, paintings and found items. Designed and crafted by Shoshin.



I did many more projects, unfortunately no photos were taken. My first project was a pair of side seam moccasins, I made more pairs for friends and family.