my name is shoshin, it translates out as "beginner's mind".
i am a 52 year old BBW submissive in the SW Ontario, Canada area, my journey into this Life started a 3 yrs ago online.
After over a year as a cyber submissive, i was introduced to a local real time D/s community and had the great good fortune to meet the Dominatrix Whose collar graced my throat until June 2000 when She removed it honorably, believing me to be ready to seek a worthy Master.
She began by protecting me at fetish events for the Master Whose collar i was in at the time. That was a long distance relationship and He felt i needed the protection as He couldn't be with me. After observing me for some time, when i requested release from the Master's collar, Madame (as i call Her) felt a more formal & official protection was called for. i agreed, accepting Her collar joyfully & with great pride.
In January, Madame decided i needed intensive training in the skills, arts & disciplines of this Life if i was to be a worthy submissive. i went to Her home twice a month for 3 days at a time to be trained by Herself & the creme' de la creme' of the local D/s community. my training is in what is sometimes known as "pure" BDSM, Madame placed me on a no Vanilla sexual act restriction prior to the beginning of my training.
All Trainers received no reward other than my respect, gratitude, the opportunity to play with a submissive who is "virgin" in much of this Life and the knowledge that They are contributing to my growth & development. Doing without lovemaking for so long for a woman of my high libido has been difficult & frustrating at times, but i began to understand it when a Dom Who had known me as a cyber submissive met me again after just 3 months of training. He was totally "blown away" by the difference in me. i may not be more docile & compliant... but Madame & this Dom Both like a submissive with spirit & fire, what i am is capable of offering a much wider range of submission. i am more aware of my grace in submission and my own beauty & worthiness.
It is similar to having gone from only being able to play "Chopsticks" on the piano to being able to play Scott Joplin tunes or classical pieces with only a few misplaced notes. Madame personally supervised my Training & often joked with me about how if someO/one had told Her She would train a female sub, She would have told T/them they were crazy.
Madame is very heterosexual (as am i) and had no interest in having a femsub. Especially in expending the energy, time & resources it takes for intensive training on a sub She wouldn't keep, but will eventually present to a worthy & honorable Master.
my search for the worthy One continues, if You feel You can help in any way, or feel perhaps You may be that One, please e-mail me at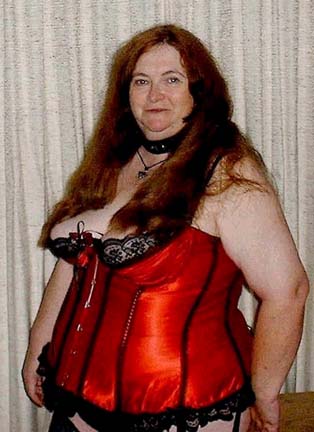 Photo courtesy of Murray & opal
Garden
Blue Corset
The Boring Details